Daron: Okay, it's that time of year.
ctan: What time of year?
Daron: The time when Christmas music starts to drive me insane.
ctan: This is one of the reasons we never go to shopping malls, dear. Or, only in the summer when it's safe.
Daron: Aha. Anyway, the ironic thing is that I have a Christmas song to share with you. The Dollyrots–a punk band from Florida by way of L.A.–released a zombie apocalypse parody of "I Saw Mommy Kissing Santa Claus" called "I Saw Mommy Biting Santa Claus."
ctan: Given your feelings about your mother and suburban conformity I can see why that spoke to you.
Daron: The Dollyrots are just cool.
ctan: They remind me of the Ramones. A very pop sound on record, but thrashy and punk in their live show.
Daron: Yeah. Anyway, whatcha got today?
ctan: I wanted to thank everyone for participating in our chats a couple weeks back. I'm going to post the transcript of the "ask us anything" below, in case the chat room gets nuked. (It might since I have to pay to keep it running and I'm not sure it's worth it to keep paying for it. I may try to replace it with a free solution.) I've also got video of the video portion, in which I read Colin's story aloud, and a scene from Madison Square Garden, and such.
Daron: I feel compelled to point out that's only the second hour of the chat. The first hour didn't record because of a glitch with uStream.
ctan: Yeah. That's okay. All the really good stuff is in this part. So, any news lately about celebrities coming out?
Daron: Only the cutest coming out video ever. From Olympic diver Tom Daley, who did it via YouTube:

ctan: Coming out as BISEXUAL, I should note.
Daron: God he's cute. I may have to go watch all his diving videos now, too.
ctan: I was annoyed that the media were like "Tom Daley GAYYYY" when he clearly says he still fancies girls, but he's in a serious relationship with a guy right now.
Daron: You know why it is that people are so freaked out and afraid of other people being bisexual, don't you?
ctan: No, why?
Daron: Because they're so insecure. They're 100% sure if they dated a bisexual they would get cheated on.
ctan: But how about the fact that they are likely to get cheated on by monosexuals, too?
Daron: They do the "math" and figure the chances are twice as high.
ctan: You know that's nuts, right?
Daron: Yes, I know that. But that's what they think.
ctan: Is that what you thought about Ziggy?
Daron: No comment.
ctan: Okay, on the subject of Christmas music. Can the great Lindsey Stirling redeem it for you?
Daron: No.
ctan: You're really a Grinch.
Daron: No, it's just that's the dullest performance I've ever heard from Lindsey Stirling! It doesn't hold a (Christmas) candle to this, which has a winter theme, but is so much better:
ctan: My favorite song of hers is "Moon Trance" though. The way she just veers out of mode is fantastic.
Daron: And the video has zombies in it:
ctan: It's like an homage to Michael Jackson's Thriller! But what is it with you and zombies lately?
Daron: Other than they're a symbol of brainless conformity?
ctan: Which is the scourge you exist to fight? Okay, that makes sense.
Daron: Vampires, I'm fine with vampires. Werewolves, too. I have a lot in common with vampires and werewolves. Zombies not so much. Hey, tell people you're on tour.
ctan: Right! Well, a "virtual" tour, of blogs. Me, Paula Coots, L.A. Witt, and Rowan Speedwell are doing the "BOYS IN THE BAND" blog tour, since all four of us have now written about gay rock stars. At each stop people can enter to wing a prize package that includes all four ebooks from all four authors. Here are the dates where we'll be guests on the blogs:
Dec 4 Sinfully Sexy Books
Dec 6 MM Good Book Reviews
Dec 10 Pants Off Reviews
Dec 11 Mrs. Condit Reads Books
Dec 12 Scattered Thoughts and Rogue Words
Dec 13 3 Chicks After Dark
Dec 14 Sid Love
Dec 16 Em Lynley's Literary Love Shack
Dec 17 The Book Pushers
Dec 18 Boys in Our Books
Dec 19 Joyfully Jay
Dec 23 Elisa Rolle's Reviews and Ramblings
Daron: And you don't even need a bus for this tour!
WITH THE BAND by L.A. Witt

Hard rock band Schadenfreude is finally on the verge of the success that's eluded them for the last several years. With Aaron McClure as their new lead singer, nothing's going to stop them…except maybe a steamy, secret relationship between Aaron and bassist Bastian Koehler. Aaron knows all too well what can happen when band members get involved with each other. After all, his last band was a casualty of his last relationship, and Schadenfreude forbids band members from dating for that very reason. But Bastian is too hot to resist, and besides, it's just sex, so what's the harm? Their passion in the bedroom is rivaled only by their ambition as musicians, though, and pretty soon, it's going to tear them, and Schadenfreude apart, if they can't get back to playing with the band.
ANOTHER ROCK STAR by Paula Coots

Music is the driving force in Reed Lang's life and he's hit the jackpot when it comes to signing a major label deal and scoring a hit single or two. It's never an easy task and certainly not for an out and proud gay man, even in this day and age. Now, it's time to hire the backing band, shoot the videos, do all the promotion work and get out on the road. But what happens onstage is only half the show. When the wild energy onstage can't be contained some become more than just hired hands. Friends. Mentors. Tormenters. Lovers. Surviving the circus of the music business, the rigors of the road, staying true to your art and discovering your heart show Reed that maybe there is more to life than being just another rock star.
DARON'S GUITAR CHRONICLES by Cecilia Tan

It's the 1980s, the era of MTV, AIDS, and Just Say No. Daron Marks is trying to make it as a guitar player in an industry where the whole world is the closet. Keeping his sexuality a secret would be a lot easier if he hadn't developed a huge crush on his band's lead singer, Ziggy Ferias. In fact, everything would be a lot easier without his crush on Ziggy… except for fame itself. In the latest volume of Daron's Guitar Chronicles (volume 5), Moondog 3 are on the road. Is the tour bus the pressure cooker that will meld them together or will the pressure blow them apart?
ILLUMINATION by Rowan Speedwell

Adam Craig is burned out. Lead singer of the hard rock band Black Varen, he's tired of the empty life of groupies, paparazzi, and hotel rooms. Worse, a life in the closet. Miles Caldwell is a brilliant artist, tied by agoraphobia and social anxiety to his family's lodge. Alone but for his parrot, he spends his days illuminating manuscripts and hiding from the complexities of life. Somehow, the man who's never home and the man who never leaves it must find the strength to fight for a future together.
11-16 02:18 daron_moondog: The "official" chat starts at 5pm but feel free to chat with whoever is here before that.
11-16 02:21 Cecilia Tan: Couldn't get Google hangouts to work at all. Video portion will have to be on uStream only.
And yes, anyone here early, talk amongst yourselves!
11-16 07:48 cayra: Hii!
*camps in here bc otherwise I'll completely forget that there is a chat*
11-16 09:41 Joe Casadonte: Test
This will be archived, yes? In case I miss it.
11-16 10:02 cayra: yep, looks like it.
11-16 15:00 daron_moondog: Cayra, you came and went and came and went…
and then I guess you're back again.
Two hours to go.
11-16 15:15 cayra: yeah my internet keeps flaking out
11-16 15:15 daron_moondog: aha
Hope that doesn't happen here.
11-16 15:19 cayra: It's more an inactivity thing, I guess. Chat kicks me out after a while of doing nothing.
11-16 15:29 daron_moondog: I'm making ctan wear eyeliner.
After all, she makes me wear it, it's only fair.
11-16 15:29 Cecilia Tan: *goes to put on eyeliner*
I only do this for special occasions, you know.
11-16 15:34 cayra: *whistles*
11-16 15:39 Cecilia Tan: My printer is crapping out. I may have to read Colin's story tonight off the computer screen.
11-16 15:41 Amy: Huh, it remembered me from our test. I see you changed from Slytherin Green to Legal Pad Yellow
11-16 15:43 Cecilia Tan: Yeah, it was too hard to read on some screens.
They have a bunch of fancy background themes, too, but they make it IMPOSSIBLE to read if you can actually see them.
So what's the point?
11-16 15:43 Amy: Makes sense. Also, hi!
11-16 15:43 Cecilia Tan: Hi!
11-16 15:43 Amy: Ah, badly thought-out design options. It is the internet.
11-16 15:49 daron_moondog: Yeah, it was very… MySpace-like.
11-16 15:54 Cecilia Tan: I'm now scouring all my inboxes and social media to make sure I have everyone's questions. I'm sure I'm going to miss someone, though. Apologies if I do!
Hey sanders!
11-16 15:54 sanders: You do still have an hour.
hi!
11-16 15:54 Cecilia Tan: Yeah
11-16 15:55 cayra: I couldn't think of any questions myself, but I'm very exited to see what everyone else came up with and what the answers will be.
11-16 15:55 sanders: Since there was the conversation about design a bit ago, I'm wondering how this layout might work for folks with accessibility issues.
11-16 16:00 Cecilia Tan: Good question.
It lets us change the background colors and the text colors. I wanted something with good contrast but not pure black and white, which can be fatiguing to the eye.
I need to remember to make more tea before we start.
11-16 16:00 sanders: With the turquoise sidebar and the legal pad yellow, there's a very 80's new wave fashion feel to things.
11-16 16:01 Amy: Apropos.
11-16 16:01 daron_moondog: Ya think?
11-16 16:01 cayra: The yellow is fairly pleasant. The turquoise is just terrible XD
11-16 16:01 sanders: I think if the little guest people were a neon green or a bright purple or pink, we'd be right on that Miami Vice trend.
11-16 16:02 daron_moondog: I could make it neon pink instead…
If I could remember how to get to the controls on the website…
11-16 16:02 Cecilia Tan: I think it's bookmarked on my machine.
11-16 16:29 daron_moondog: kllllllllllll
LOL. A cat on the keyboard.
11-16 16:31 Cecilia Tan: 30 minutes to go. I'm making some tea.
11-16 16:44 Cecilia Tan: Oh jeez.
Um, here's what it looks like here right now:
"If iz not for sits why iz made of warm?"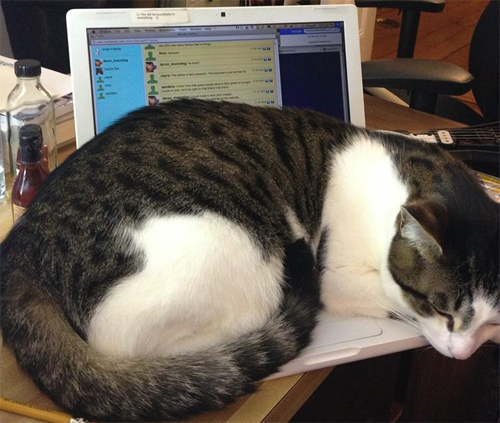 (This is the cat named Oolong. You can see the chat window on the laptop screen.)
11-16 16:45 daron_moondog: He walked from her keyboard to mine then lay down.
I moved him finally.
11-16 16:47 Cecilia Tan: A gorgeous moon is rising here in Cambridge, MA. The sky is deep blue and the moon is like a giant peach.
11-16 16:48 daron_moondog: A giant glowing peach. What time is it?
11-16 16:48 Cecilia Tan: 12 minutes to go, dear.
11-16 16:48 Amy: I hope there's not a boy and his mutated bug friends in the giant glowing peach
11-16 16:50 sanders: I think I'm too far south for the moon to be interesting yet
11-16 16:51 Amy: I know I'm too far west
11-16 16:54 sanders: my expectations for moonrise have been raised.
11-16 16:56 daron_moondog: Dunno what it is about this time of year but New England's skies are extra colorful in the fall.
It's not the leaves. It's the air or the angle of the sun or something.
It's like a Maxfield Parrish painting out there at sunset most nights lately.
11-16 16:57 sanders: It might be nature's way of compensating for the fact you'll be knee deep in snow and ice shortly.
11-16 16:58 daron_moondog: yeahhhh
Two minutes to the official start.
Lena! Right on time!
11-16 17:00 sanders: I don't know how y'all can stand it.
11-16 17:01 Cecilia Tan: Hellooooo everyone! Here's the official start of the actual chat. As opposed to the chatting we've been doing while waiting for it to start.
11-16 17:02 daron_moondog: Now is the time for you all to take bets on who makes more typos tonight, ctan or me.
11-16 17:02 Cecilia Tan: Make it a pool Try to guess the numbers.
11-16 17:02 Amy: I think Oolong already won
11-16 17:02 Lenalena: I can out-typo anyone!
11-16 17:02 sanders: I'm with Amy.
11-16 17:03 daron_moondog: True! The cat made his contribution.
Wanna know how I got him to move?
(this chat made the post too long for the website to handle…? so continued in PART TWO: click here)