It has been a busy 10 days since the Kickstarter (http://kck.st/R31kCx) launched and I wanted to catch everyone up on how the campaign is going. We topped $1,000 on the very first day, but the next $1,000 took the next 9 days to reach, so you could say things have slowed down a lot. We've only got another $1,500 to raise and 20 days to do it, so I feel confident we will. But I would like to remind folks of a couple of things:
1. DGC Chat!
I'll be hosting an online video streaming chat on May 1. You can RSVP via the Facebook event page: https://www.facebook.com/events/470709286390303/ or just check out my uStream channel from 8-10pm eastern US time on May 1. Here: http://www.ustream.tv/channel/cecilia-tan
2. Stretch Goals!
Remember that if we surpass the minimum on the Kickstarter it means a bigger, better book. Also, at $4K I'll be releasing the I SPEAK GUITAR novella to all backers. Many readers received this last month for supporting the DGC website, but those of you who are new will be getting it if we top the $4K threshold. At $5,000 I'll create a special timeline of DGC that you'll all receive as a PDF and I'll include in the printed book, plus Daron will do a chat for backers only! and at $5,500, I'll spend the money on giving all backers a special backstage pass from the Moondog 3 tour. Laminated and everything for those getting physical rewards, as a PDF for those getting digital rewards. In fact, I mocked up a version the other night. Maybe it'll look like this: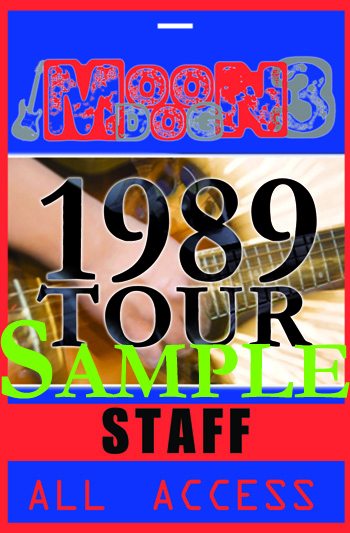 3. Manage Your Pledge
If you already donated through the Kickstarter, you can up your pledge amount or change rewards at any point up until the campaign ends by hitting the "Manage Pledge" button on Kickstarter. And remember you can up your amount to get Add Ons. If you want a T-shirt or a book and it's not included already in the reward you picked, or you want another one, you can Add by upping your pledge amount and then telling me (when the backer surveys go out) what the addition is.
4. Paypal?
A couple of people have asked if there's a way they can contribute through Paypal. Although I take Paypal personally, to count toward us getting the money through Kickstarter, it has to go through Kickstarter. ONCE WE MAKE GOAL, however, I'll put up a Paypal button at https://daron.ceciliatan.com/tip-jar and then anything that comes in there I will officially count toward the stretch rewards for everyone. But only ONCE WE MAKE GOAL. OK?
5. Yayyy!
And basically, you are all awesome. I'm so lucky to live and create in an era when writers and readers can connect in such a direct way. Thanks for sharing the love by telling your friends and family about Daron and about the Kickstarter, that's a big part of how we get new readers on the site and how we'll get to the goal in the campaign.
Remember, Daron and Ziggy's timelines converge again next week!
-ctan (Daron's busy watching Iron Man 2)