In this post! Cover reveal for DGC Volume Seven! Fanworks reminder! We discuss taglines! More pop singers who came out! Cool music! And more!
ctan: So, both of us have bad enough time sense that here it is the middle of February 2015 and this is January's liner note.
Daron: Oops.
ctan: Meanwhile, in the story it's 1991. Which is really kind of weird when you think about it.
Daron: Why?
ctan: Because the tag line on the website is "the closet, the stage, the 80s," and the subtitle of the omnibus is "a story of rock and roll, coming out, and coming of age in the 1980s."
Daron: Oh. Welllll… maybe it refers to the 1980s sensibilities of the story even when it's taking place in the '90's?
ctan: You sound like you sat in on one too many marketing meetings at BNC.
Daron: Ew. Sorry. Well, what are you going to do? Meta-data is your job, not mine.
ctan: I don't know. Maybe we should let readers suggest what the new subtitle should be?
Daron: That's probably better than what I just came up with.
ctan: Which is?
Daron: "Fucked up, fucked over, but having a fucking good time anyway"? I suppose that's more like the state of things at the start of 1991 than the whole story, though.
ctan: LOL. We could put that tag line on memes, though. What do you say, folks? If you were going to put a tag line or subtitle on Daron's Guitar Chronicles now, what would it be?
Daron: Someone should make a movie trailer!
ctan: Which reminds me, the fanworks initiative is going until February 14th! Someone could totally make a video "trailer" for it. Did I show you the completely goofy trailer I made for my Youtube channel?
Daron: You did. People, if you want to see it, go to http://youtu.be/CqGmpmwHIXs.
ctan: It's ridiculous. But iMovie has these built in trailer templates with animation and background music and everything. So if you want to make one for DGC and you have a Mac, iMovie comes built in… have fun! All right what else do we have for people? Right, some reminders: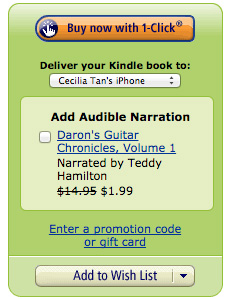 Oh, and I just noticed this: does it look like this for everybody? Amazon revamped the layout of sale pages and this looks to me like if you download the DGC Volume 1 ebook for Kindle, you can get the audiobook for only $1.99?! Audiobooks are usually like $15-$25. Link: http://www.amazon.com/gp/product/B004EHZUA0
ctan: Okay, that's enough site business. Let's talk music.
Daron: Did you see Kat Robichaud launched her album?
ctan: This is the one we Kickstarted?
Daron: Yes. Love her voice. And love her musical style. It's sort of Beatles crossed with Amanda-Palmer-style punk cabaret. Here:
ctan: And that song is a Doctor Who reference! Nice. Speaking of music nerds, have we talked about the best geek musician comedian out there, Tim Minchin?
Daron: Noooo….?
ctan: Check it out. "So Fucking Rock"
ctan: He's rather irreverent. Occasionally oversteps and offends people, but from what I've seen his apologies to the underprivileged are sincere, so I'll give him the benefit of the doubt.
Daron: Comedy is hard. That is an art form that essentially has "hate me" built into it. I don't know how people do it.
ctan: I feel like the Internet must be reading my mind today. Or yours maybe.
Daron: Why?
ctan: You know how at the bottom of every article you read are a bunch of link-bait? I'm looking at a page that is offering me all of these:
-Who Knew These 20 Male Mega Stars Were So Small?
-20 Celebs You Would Never Guess Were Gay!
and
-9 Celebs You Never Knew Were in Open Relationships
Daron: Jeez. It's like they know what you're thinking about. The one you're missing is "20 Celebs You Never Knew Were Bisexual."
ctan: Probably because I read that one already.
Daron: Ah. Do I have to mention the whole idea of being on these lists makes my skin crawl?
ctan: OK, you stick to looking at lists like "Top 100 Alternative Songs of all time."
Daron: Actually I have almost as much trouble with those! But yeah. It's not the invasion of privacy. It's the incessant labeling and judging. Well, and okay, who the fuck cares that Gavin Rossdale used to be in a relationship with a man? I mean, other than his wife, who I think both outcharts him and outearns him as a singer/entertainer, by the way. Gwen Stefani.
ctan: I managed to miss that Gavin Rossdale and Gwen Stefani are a thing to begin with.
Daron: That's why the Internet is trying to get you caught up with all that link bait. *nods* Meanwhile did you see the list of "Two Country Singers Who Came out As Gay Last Week"? Well, it was more than a week ago now: 2 Big Country Stars Come Out As Gay. Ty Herndon and Billy Gilman.
ctan: Here's Gilman's coming out via YouTube video:
Daron: That was…incredibly hard for me to watch.
ctan: Why?
Daron:It just hits so close to home. Also…we've been talking a lot about how much better it is now that, say, 1991. We say "Look! Adam Lambert!" like his singular success is proof that it's a really different world now. But there's Gilman saying that at least in the country music world, just the rumors about his sexuality kept major labels from signing him. It makes me ill thinking about what he must be going through.
ctan: I know. Then again, things have changed enough that he and Ty Herndon could come out at all? I have to wonder sometimes though about Adam Lambert's label dropping him.
Daron:Or was it him that left them? It looked to me like he took a really strong stand to protect his career and his integrity by "parting ways" with RCA.
ctan: True. The story I read was that all they would "support" was an 80s cover album. Now that I think about it, what makes me think Adam was behind the change is not only did he leave RCA, he fired his entire management company at the same time. That's ballsy, to put it mildly.
Daron: Yep. Fired all of them, and then next move: massive world tour with Queen. Oh and also sign with Warner Brothers and secretly produce an album with hitmakers Max Martin and Shellback. Ka-ching. I think Lambert will do just fine for himself.
ctan: I just want to hear the new album already. I'm really curious to see what musical direction it goes. Because he has been all over the genre map.
Daron: I've got something I want to share. Check out this video of Iggy Pop being an absolute rock star in every sense of the word. He's playing acoustic solo in 1994 in Barcelona, with no roadie, no backup, and it's some kind of live broadcast so he can't stop, really. He breaks a string. Then he breaks another one. And just keeps on rolling like the total badass professional that he is:
ctan: Just think, by 1994 he was a 20-year veteran of the music scene.
Daron: And it shows.
ctan: Oh I know what I want to share with people. Some amazingly great reviews of DGC:
"The first person narrative has rarely been used to greater effect than in Cecilia Tan's online serial Daron's Guitar Chronicles. The relationship between Daron and the reader is something I've never experienced before, and I don't believe could have been achieved in the third person, limited or omniscient, as brilliantly as it's been done here."
That's from Lisa at The Novel Approach reviewing DGC book 6 here: http://thenovelapproachreviews.com/2015/01/08/review-darons-guitar-chronicles-volume-six-by-cecilia-tan/
Later she reviewed the entire series:
"Cecilia Tan has done with Daron what every author hopes to do—she has disappeared inside her character. Ms. Tan didn't write this book. Daron Marks wrote this book and used Cecilia Tan as the vessel through whom he tells his story." (Here: http://thenovelapproachreviews.com/2014/09/22/series-review-darons-guitar-chronicles-by-cecilia-tan/)
Daron: Whoa.
ctan: And that same reviewer then also included us in two roundups in guest blogs, one on Books to Fall in Love With and one on 2014 Year in Review. So, yeah, wow, we really got through to someone. She found the series almost by accident, picking up Volume One free on Amazon. This is why I've kept book one free for so long. It keeps bringing us new readers.
Daron: Speaking of the ebook volumes. Don't you have something to show people?
ctan: Oh, yes, let's put that in. Folks I have a draft for the cover of the next volume. Volume Seven! The photograph is by a friend of mine in New Orleans, Ted Carter, of TC Photography. You guys can Like his Facebook page: https://www.facebook.com/tedcarterphoto?ref=hl or follow him on Twitter: @ted_photo.
Daron: Did you tell him to put the model in a red shirt?
ctan: Nope. They just read your mind about that, apparently.
Daron: That's…totally a shirt I would wear.
ctan: I know. Okay, last reminder about fanworks. Tote bags, T-shirts, backstage passes, stickers: I'm giving them away to folks who create fanworks. If you think you can't quite be done by Valentine's Day let me know and I'll save something for you and give a little extension, OK? We've got some art, some fanfic, some song lyrics, a fanmix, and memes. Like I said, any of the above, or a "movie trailer" or bake a cake with an album cover on it, or cosplay as Ziggy and send photos, or something I haven't even thought of. Deadline is Feb 14th and I'll start posting & linking the week after!