Joe has created timelines sliced and diced so that no matter how you want to view all the events in Daron's Guitar Chronicles Volumes 1 & 2, there's a timeline for you.
To view, just click on the image and watch it expand in your browser!
All the Events!
All the Events! By volume number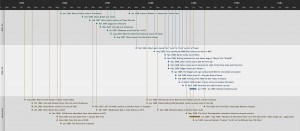 Volume 1 and just volume 1

Volume 2 and just volume 2

All the Events! By decade.

The historical context to All the Events!