(In the midst of the Kickstarter campaign, somehow you guys still managed to trigger a Saturday post, too! So here it is. -ctan)
—
The Aesthetician came by The Hangar to measure us all for wardrobe more than once. We also had a couple of production meetings there instead of at the office so she could figure out some logistics about building the stage. We weren't going to take a custom-built stage with us to South America but if a US or European tour shaped up we might. Depending on the venues. Meanwhile the South American stage had to be worked out with regular sections that could be easily rented and built no matter where we went. This meant we had to finalize how many musicians we'd have and where they would be.
At one such meeting the main topic of discussion was my hair. No, I'm not kidding. No, I wasn't happy about it. I've never been comfortable with people fussing over my appearance.

It had started out as a discussion about Ziggy's hair, a discussion that had gotten into subjects I hadn't known were discussed like this. Mills was on speaker for this one.
"I feel it's passé to do the midnight black with blond streak at the front," Linn said.
"But it's a signature look," Ziggy pointed out.
"Your old signature," Barrett, who was there in the war room of The Hangar with us, said. "Unless you want to be stuck with that same hairstyle ten years from now."
Ziggy relented at that.
"What about red? A rich auburn?" Linn suggested. "There could still be some highlights in it."
"I like that direction," Mills said via speakerphone. "Honestly my worry about his natural color is that he'll be too quickly identified as Latin. I have serious worries about this record being pigeonholed into urban. You know I do."
"Dance music isn't black music anymore," Barrett argued. "Not with all the European rave stuff coming over."
"Facts have never stopped the American public from being wrong," Mills countered. "If we're going to keep the appeal wide we have to keep his image white."
Ziggy snickered. "What color do you think my natural color is?"
Mills dodged the question: "Linn, going with auburn would be great, as long as it looks natural and not, you know, fire-engine red or like a failed dye job."
Barrett tapped the eraser of a pencil against the table we were gathered around. "My only concern about red is I want to avoid too much comparison to Bowie."
"And I have to work with what he's got for a start." Linn fingered the edges of Ziggy's hair in the chair next to her. His hair was currently midnight black and somewhat shaggy. "And I'd like to give both of you some matching element."
"Me?" I said, surprised.
"Yes. You're going to be the member of the band most visible."
"Is the band even going to be visible?" I asked.
"Oh, yes–"
Mills cut her off. "Marks, is that you?"
"Sure is."
There was a moment of silence when nobody talked, then Barrett cleared his throat and Linn plowed ahead. "There will several points where the band is featured, and you in particular during one important costume change."
"Ah. Makes sense."
Ziggy tapped his chin. "What about giving the band and dancers the old blond streak while taking me in a different direction?"
"Now that's an idea," Barrett agreed.
"That still doesn't settle what to do about Ziggy's look," Mills said.
"Going all green or all blue is right out," Linn said. "That won't fly in South America."
"Or here right now," Barrett said. "I'm not visualizing it well. Linn, can you bring in some headshots of models we could compare or something?"
"Of course. We can pick this up tomorrow." She slipped out of her seat and raked her fingers through my hair. I paid attention to her instead of to Barrett and Mills finishing up the call. She had long fingernails and they felt weirdly good against my scalp.
"Are you attached to all this hair?" she asked me.
"Kinda. It's taken years to grow it out and I don't want to have to start all over."
"It fits your image of yourself?"
"Yeah." I suppose it did.
She nodded thoughtfully, still playing with it. "A small streak. And perhaps some colored extensions. Perhaps some colorful undercoat, which could match each other."
"Uh, sure."
As the meeting broke up I asked Barrett, "That wasn't the first time Mills realized I'm doing this, was it?"
He shook his head. "He's known for a while. I don't think he knew how much a part of the team you are, though." Barrett then gave me a shrug that I took to mean: if Mills doesn't like it he can go suck eggs.
After we finished rehearsal that night and I was going around shutting things off, I asked Ziggy though, "Wait, what is your natural hair color?"
"What color do you think it is?"
"I've always thought of black as your base color but that's obviously not right now that I think about it." After all, I'd even helped him to dye it black.
"It's brown," he said, sounding supremely uninterested.
Let's put it this way: Ziggy was as uninterested in the natural color of his hair as I was in the natural sound of my voice.
—

—
Site news! Only six days left on the Kickstarter! Ends this Friday at 5pm!
We only need $316 to make goal, and we're only $900 from adding two scrapbook pages to the omnibus paperback!

This is your last chance to get some of the goodies being offered as rewards! Some items will only be made in limited quantities!
Temporary Tattoos!
of Daron & Ziggy's tattoos



For only a $5-$6 donation to the Kickstarter (not here on the site), get your choice of any of the temporary tattoos and your choice of any of the ebooks.
Custom Guitar Pick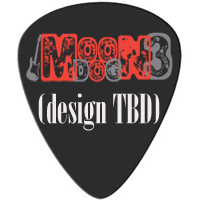 A reward of a custom guitar pick is $8, or for $10 have it on a necklace chain!
New T-Shirt Design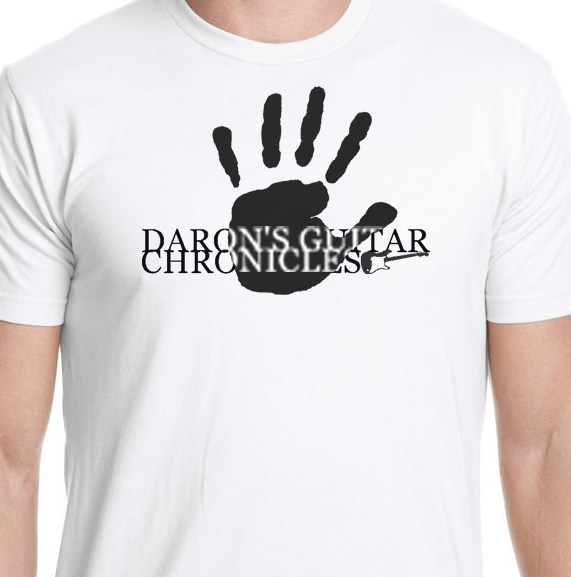 Since Linn the Aesthetician liked that handprint of Ziggy's that Daron wears, I thought why not make it into a shirt?
Various other bundles and rewards are available including custom songs written by Daron or Ziggy, pages from their notebooks, and of course the omnibus paperback itself which the Kickstarter is raising the money to produce!
Click here to see the full rewards and contribute: https://www.kickstarter.com/projects/ceciliatan/darons-guitar-chronicles-third-omnibus