As posted to her Instagram:
The pose was inspired by a Tumblr discussion Amy and I were in about David Bowie and Mick Ronson in which the following photos were making the rounds: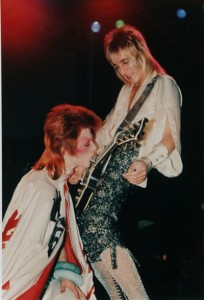 An article in The Guardian included the above photo and said the following:
"On Thursday 6 July 1972, halfway through an edition of Top of the Pops, David Bowie performed his new single, Starman. Dressed in a multicoloured lycra jumpsuit, he put his arm languidly round his guitarist Mick Ronson and looked seductively into his eyes."
and
"'Basildon was a factory, working-class town,' Dave Gahan of Depeche Mode once recalled. 'Bowie gave me a hope that there was something else… I just thought he wasn't of this earth.' The radio presenter Mark Radcliffe, then a 14-year-old pupil at Bolton School, thought that Bowie and Ronson had 'arrived from another planet where men flirted with each other, made exhilarating music and wore Lurex knee socks.'"
(The Guardian story also says the simulated fellatio couldn't have appeared on Top of the Pops or it would have been pulled from the BBC, but apparently the performance, whatever happened during it, was a watershed moment nonetheless.)
I should also mention that Amy sells notecards on her Etsy store and this is one of the images she would be happy to put on cards. She also does various other fandoms such as Sherlock, Star Trek, etc.
(Learn more about fanworks for Daron's Guitar Chronicles here: http://daron.ceciliatan.com/fanworks)