(and liner note!)
Court and I stayed for a few more days in Tennessee after everyone else went home, to help Janine cope and to "be there" for Landon.
I didn't really know what "being there" would entail, but it turns out that literally just being there was good. I have no idea how a six-year-old processes that his grandmother is gone, especially when she'd essentially disappeared from his life six months earlier, which is forever at that age. But apparently having a favorite aunt and uncle around helped. After we'd said goodbye to everyone who'd come to the funeral, we moved out of the hotel and into Janine's house for half a week.
Speaking of goodbyes, I should tell you about the goodbye hug I had with Colin, because I know you'll appreciate it.
I remember the hug, I just don't remember exactly when it happened. It was at one of the stops on the Claire Farewell Tour, probably the reception at the hotel. A good, long hug from Colin made all kinds of things loosen up in my brain and my chest.

He asked when I was coming home. And it struck me, oh, yeah, what's next? Where's next? Almost a year earlier, Ziggy and I had put off making any long term plans about where–and how–we were going to live. There'd been the couple of months where we were in Boston trying to get healthy in body and mind–cut short by the whole Claire affair, but which would have been over by now even if we'd stayed.
It had been a good couple of months for us in Boston, even if there had been some angst. You know: my head feeling done in by the explosion of Nirvana, Ziggy feeling like grunge signaled the death of glam, us not listening to each other… That all seemed like small potatoes compared to the big stuff that had happened. The so-called big picture. Like us learning to trust each other, and losing our moms, and… holy shit, ending the lawsuits and resurrecting our band…?
Remember when I said I wanted to shoot the moon? I woke up the morning after Ziggy's confession about what he did to Digger, exhausted, wrung out, but I felt… good.
I should have felt like there were gaping holes in my chest, but I patted myself like I'd woken up from a dream expecting to find bullet wounds and instead, everything was whole.
I lay there in the dark, only a crack of daylight making it around the far edge of the blackout curtain, thinking about shooting the moon and realizing we'd done it. Ziggy had done it.
All the pieces that had been floating around the board, all of the moves made by all the people in our lives–Barrett, Patty, Carynne, Jordan (god rest his soul), our lawyers, even Janessa and Jonathan–all lined up like the tumblers and pins in a lock. And Ziggy had the key in his back pocket.
The door was open now and it was up to us to step through it.
Funny thing about that door. When I was young and unsigned and desperate to make it, getting a foot in the door was the most important thing. You hammer on that door, try to beat it down, but all you can see is that door is there to keep you out. Once it cracks open, of course you rush through it, eager to leap right into the mosh pit at the party you've been trying to get into all your life.
Now I knew that the door was also there to keep you in. The big lesson I'd learned thanks to the water tank: you can't just do it for the sake of doing it. Well, maybe some people could, but I couldn't. If I loved myself, I had to love what I was doing, and if I didn't love myself, I was going to end up dead. I'd also learned that to love someone else, I had to love myself first, or my heart wasn't strong enough to take it.
I'd seen my mother through to the end and it hadn't destroyed me. In fact, maybe my heart was stronger than ever? Battered, bruised, exhausted, but… beating steady. Conquering the pain in my fingers would be trivial by comparison. Returning to reasonable playing form seemed nearer, more attainable, than it had even a week before.
Ziggy cracked open an eye from the pillow next to mine, saw me looking at my hand, and without saying a word pulled that hand by the wrist under the covers and didn't let go until he'd left a sticky mess in my palm. (And then he went back to sleep.)
One more sendoff to tell you about. Remo caught me and Ziggy at the breakfast buffet at the hotel before he left to catch his plane. I brushed crumbs off my jeans as I stood up to give him a hug.
"I'm off to LA," he said. "Mel and Ford are there now."
"Oh yeah?"
"Yeah. I told Landon he could come and visit my little boy someday soon. Since I became 'Uncle Remo,' Lanny's decided that means Ford's his cousin."
"If you are telling me you're going to need my help wrangling my sister–"
"I'm not saying anything of the kind. Just telling you that, you know, some Christmasses down the road there might be a lot less sex and drugs and drinking and a lot more… whatever normal families do."
That made me laugh. Like this past Christmas hadn't been "normal?" I mean, other than Claire dying. Neither of us had any idea what "normal families" did. And it was also funny to think about how Remo's various attempts at getting "family" together for holidays had been the scenes of both his own surprise engagement (and wedding) and Digger's ejection from his house. And I thought about just how much red wine Claire could drink. So maybe–and by maybe I mean certainly–the excessive drinking wasn't exclusive of the "family" holiday.
"Where to next for you?" he asked, totally reasonably.
"Janine's," I said. Ziggy and I had talked about where to be next but we hadn't actually decided our next long term move. The one thing I'd insisted was that we not go right back to New York and try to start recording an album, like, next week or something. The good thing was, we wouldn't have to. Now that Digger had folded his hand, it'd take some time for the lawsuits to tie up, and we'd could wait to start work on a new Moondog Three album after that. Patty had told Zig at the funeral that she'd had an engineer already do a remix of "Into the Night" using DATs Jordan had left behind. Apparently the tapes included me playing four different solos for it. I wondered which one they picked, but I wasn't in a hurry to hear. The single was ready to drop as soon as the publicity campaign peaked. My job in that process was just stay out of trouble and stay out of the public eye, which suited me just fine, actually. "We might take over Bart's beachhouse at the Cape for the whole rest of the summer."
Remo chuckled. "It's funny. Usually when we say goodbye it's all about where and when we'll be hitting the road next. But we're both going home."
"Yeah." Even my anxiety about Japan was gone: Ziggy's solo tour plans had evaporated once the prospect of a full Moondog Three tour had been floated. And that I'd gladly do, once I was back in shape. I flexed my hands. Getting there.
"You still want to come out and do a little acoustic album together?" Remo wanted to know.
Yes, yes I did. But not right that minute. "Soon as I put my heart back together," I promised.
He looked past me to where Ziggy was nibbling on a croissant and pretending to read the newspaper. "I have a feeling that'll happen sooner than later. Give me a hand with my bags?"
"Sure." I picked up his hardshell guitar case and a small travel satchel. He took his suitcase and garment bag and led the way to his rental car.
"You know," I said, as we went out the sliding glass doors, into the summer heat, "it wasn't that long ago you were warning me he was going to rip me apart, not put me together."
Remo gave me one of those exaggerated skeptical looks. "It wasn't that long ago you were warning me the same thing about him."
"Yeah, it was." I felt like I took the first proper deep breath I'd taken in a year, maybe longer. "That was a million years ago."
Remo had a little smile on his face. "I was really worried about you when I didn't see him at the church."
"So was I." If we hadn't been through all that we'd been through, past-Ziggy might have skipped out just to even the score for me not going to Jordan's memorial with him. But that wasn't how things were with us now. Even thinking about it, that possibility felt small and petty and distant. Speaking of small, petty, and distant, Digger had reportedly left town before the memorial service was even over. We hadn't filled Remo in yet on where Ziggy had been. I kept it simple. "He went to deal with Digger and keep him away."
"Oh, really?" He popped the trunk and put the suitcase in. "I thought I'd be the designated Digger-wrangler."
I handed him the guitar. "Ziggy had unfinished business with him."
Remo strapped the case into the back seat so it wouldn't rattle around and then looked at me over the roof of the car. "Should I ask how that went?"
I decided less was more. "It's finished."
Remo nodded. "Good." He came around to give me one more hug, and then looked me up and down. I looked him up and down right back. He was pretty much the same old Remo, except now he had a wedding ring on.
So did I, though. I had some inkling of what he was seeing when he looked at me. I wasn't any taller than I'd been when he ran into me that night in Providence in 1986, but I wasn't a scrawny, closeted, flat-broke teenager anymore. Now my hair was halfway down my back, I'd put on muscle, and the tattoo of the rocket that Ziggy had designed stood out on my skin. To me it looked like the rocket was pointing right into the future, like a dolphin that just leapt out of the water, weightless for a moment before it dives back down.
I'd dive back into work and the industry and rehearsals and tour plans and composing and publicity schemes soon enough. Right then I let myself just say so long to my oldest friend, and then I went back inside to share a croissant with my soulmate.
And as I walked across the parking lot, I got an idea for a song.
—

[Yep. stared at this song on the 1992 song title list for over a year now, wondering if I could bring myself to use it like this. When it was way too happy sounding for Claire's final chapter, it became almost inevitable that it would land here. Lyrics really work, no? -d]
—
Liner Note
Thus ends book 13 of Daron's Guitar Chronicles!
You may or may not remember that book TWELVE (12) started this way, in January 2018, with a claim that it would be the last:

As I've said time and time again, I can never seem to estimate properly how long any section of DGC would be. I was always wrong by a factor of two, and this turned out to be true again! Book 12, and what I called "the final year," actually took two books and two years, so at least in that way I was consistent…?
Maybe the reason things always take twice as long in DGC as I think they will is because both Daron and I have to have our say. (There's a good one for some psychoanalyst/literature major to pick apart some day…)
Anyway, here we are, at the end of book 13, and Daron has told me–like he told Ziggy–he needs some real, quality downtime.
It's not a stretch to realize that MIGHT be my subconscious trying to tell me that I need some rest, as well. And no wonder: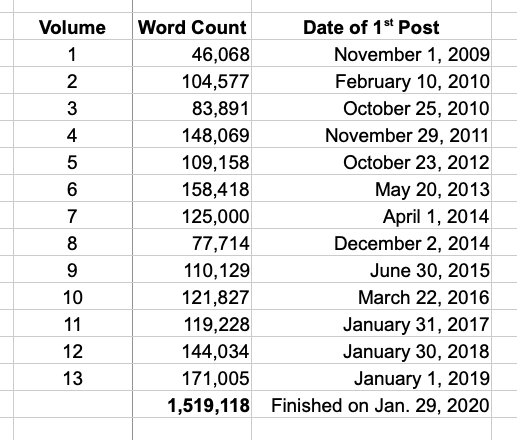 It's taken over ten years of posting to get to over 1.5 million words. Over 1,111 posts (including liner notes, side stories, bonus scenes, etc..). And I'm so, so gratified and grateful that you've all taken this journey with me and Daron, whether you are reading this on the day it posts, or if you're landing here years later.
I learned something about healing from you all, and from Daron.
I was talking with a friend recently who fell off the wagon reading DGC somewhere in book 7 — right after the "Jonathan section." She said it wasn't that she didn't love Daron (and Ziggy) but that she realized she didn't need him anymore. The healing part of the story for her, the part she needed in order to heal herself, was Daron taking those steps to not only reach the knowledge of himself and his sexuality to get into a relationship, but to get out of it again. Although she'd figured out her sexuality much younger than Daron, she said, it still took her years to figure out how those needs intersected relationships, and seeing him grow up before her eyes, and get out before it was "too late," patched over a hole in her heart she hadn't even realized was there.
My reply: "Yep. Same."
Every section in Daron's story patches up some hole in my heart, even ones I don't realize are there. But I always felt it was too much to hope that it might heal other people, too. To hear that it has… well, that heals my heart, too.
Some people discover Daron at just the right time, when they need him most. Different parts of his story heal different wounds. I think maybe this is why some arcs of Daron's story are "for" some folks, and some are for others. And that's cool.
This is, and always has been, a Gen X story.
It was a little jarring to realize earlier this week that Michael Stipe just turned 60, and Matthew Lillard just turned 50.
Most of us Gen-Xers are in our fifties now, and a whole lot of us are going through the loss of parents, so I guess it shouldn't be too surprising that I went there. As some of you know from watching the DGC 10th anniversary chat, I'm going through the very slow loss of my Dad to Alzheimer disease, and there is zero doubt in my mind that my current anxieties about the aging of both my parents fueled the Claire saga.
The thing is… Daron's story has always been about me processing things that already happened to me. This is the first time that Daron has "caught up" to my real life.
I'm also 100% sure that all his anxiety about what used to seem effortless–making music–becoming difficult both physically and emotionally is my own career anxiety coming out, too.
Which means one of the reasons Daron's story has to stop–or at least pause–here, is because he's now gotten ahead of me! Daron has lived through the loss of his mother (and in some ways his father, too, since don't you think Digger was using the lawsuits as a way to hang onto controlling him? of course he was…). I haven't. Daron has conquered his writers block. I haven't. (tl;dr — my Tor urban fantasy series is still not done.)
But Daron has a realization in these last few chapters that healed a hole in my heart that has been there since 2012, when my lover and friend Brian died (in a motorcycle accident). I kind of knew, the moment I heard he was gone, that someone was going to die in one of my books, but I didn't know who. I knew who it would be in 2015, in this post [https://daron.ceciliatan.com/archives/3870].
Daron knew it was coming, too.
Brian was a fan of DGC, by the way. I think he would have appreciated that ~200,000 words were written over the past 2 years to bring Daron to the point where he could realize what it is that I've needed to realize for the past seven years: that I don't "get over" people dying. I don't "let go" of them at all. I hang onto them and that's OKAY. It's actually really truly okay.
Huh. Therapy might have been a somewhat faster route to this realization, but then I wouldn't have made this art, and maybe helped heal some other folks along the way.
Now…
This is the end of the arc, but unlike the song title, the "story" of course continues. What's going to happen when Ziggy and Daron actually get back in the studio together? What fallout will there be from the "reunion" publicity stunt? Are they going to hate whatever producer works with them next simply because he'll never live up to Jordan? What happens when they finally hit the road in Japan? When are they finally going to take Sarah to that taco stand in Silver Lake? And get that next tattoo Ziggy's been planning? (I think somewhere in the story Ziggy says he knows what he wants next, but he never tells us or Daron? For that matter… there are a couple of other things Ziggy still hasn't told Daron. Like the fact that he was the one who put Claire up to asking Daron to write a song for the funeral…)
And I'm not done. And this universe of Daron's Guitar Chronicles is also not finished. To wit:
At some point Ziggy is going to want his say, so there's probably a story or two, but maybe a book, still to come from his point of view.
If you've read my Secrets of a Rockstar romance series, you know that Remo's son Ford eventually grows up and joins a band: he has a book inside him, too.
We're way behind on producing the Daron books in ebook and in paperback. WAY behind. So those need to get done, which means at least one more Kickstarter coming down the road, to cover the costs of proofreading, design, etc. etc. and get the final omnibuses into the hands of those of you who have been collecting them!
My plan is to re-launch books 1-11 through Kindle Unlimited, with revamped covers, and then move forward releasing the books that haven't been out yet in ebook. Taking some time to do that will also give me a chance to fix up some stuff from books 11, 12, and 13 that are rougher than I would like.
Meanwhile, the website and the Wattpad chapters remain live and free to read!
So, for the final time on these pages, I'll make these three suggestions for things you can do… as well as drop a comment below if you're moved to.
ONE:
Tell your friends, your family, your role-playing group, your crush, whoever you feel comfortable telling (of course) that this rollercoaster of an emotional reading experience/coming out story/coming of age story is here to be read and experienced. The main way we gained readers, always, over the past 10 years, has been through word of mouth. Thank you thank you thank you for spreading the word!
TWO:
If you've been meaning to throw some money in the tip jar, now would be a great time. 🙂 You can make a one-time donation via Paypal here: https://www.paypal.me/daronmoondog or you can become a sustaining Patron of all my writing via my Patreon: http://patreon.com/ceciliatan
THREE:
If you just want to get notified of anything new happening in the Daron and Ziggy universe — bonus story? new book release? kickstarter? whatever may come next? — get on the email newsletter list here: http://bit.ly/MoondogFans
I should also thank some people, and I know I'm going to forget and leave some folks out, because it's been ten years and my memory is even worse than Daron's, but here's a start: Rikibeth and Brianne for jumping on early, MCA Hogarth for egging me on to do bonus "adult" chapters and brainstorming self-publishing serial ideas with me, Alan for website advice, J.B. for taking the encyclopedia/wiki by the reins, Joe for helping create the timelines, Lenalena for much help spreading the word and reviews, Chris for taking on the mammoth task of porting over a thousand posts–one every day until caught up!–to Wattpad, Sanders and Stef for fanworks-wrangling and also organizing the Louisville DGC meetup, all the creators of the incredible fanworks, Amy for art, Meg for songs, all the amazing memes… You're all amazing and fantastic and this literally wouldn't have been what it is without all of you.
Okay, I have to go dry my eyes now, and get ready to announce this everywhere else.
But truly, thank you for being here, for reading, for being a part of this journey. Many writers write in silence, in pain, totally alone. You all being along for the ride have made every twist and turn in that journey a joy. I love you lots and lots, and so does Daron. (And Ziggy, of course. Ziggy loves the attention more than all of us put together.)
*mwah*
– Cecilia Tan, January 29, 2020
P.S. One more piece of Daron art that I've been forgetting to share! By the fabulous "fairy prince of NYC" LewdAlfred (on Twitter as @HisMajesty)