Cecilia here. I realized a month had gone by since the last liner note and that I have a bunch of stuff stacking up for you, so here's one. I had always intended to do these once a month but since this is the 27th note and the site has been posting 39 months at this point (if I counted correctly…) you can see that I miss about 30% of the time!
NOO YAWK
Anyway, here's something you don't usually see from me, which is some ORIGINAL video. 🙂 I was in New York City recently, and I decided to take a photo of the Hotel Pennsylvania, which was called the Penta back when Daron and the guys stayed there in 1989. Then I thought, no wait, it would be better to take a video snippet. So here you go, showing how close the hotel is to Madison Square Garden:


I just finished reading Duran Duran bass player John Taylor's memoir, IN THE PLEASURE GROOVE, which tells how a nerdy only child from Birmingham who didn't know how to play an instrument was saved from crappy schooling by punk rock and ended up being the founder of one of the most influential bands of the 1980s. (Buy In the Pleasure Groove through this link to Amazon and I'll get a kickback…)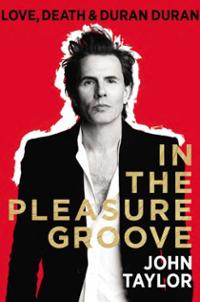 Many, MANY things in the book echo Daron's story because they're endemic to the music business of the era, while other parts are quite different, and I learned a lot about the UK music scene I only vaguely knew. One bit that amused me, given the section of Daron's story we are in, is the part where Taylor describes the band's ambition upon formation: they want to be playing Madison Square Garden within three years.
When you grow up in New York you don't quite realize the significance that things in the city can have for people elsewhere. For us, going to a Broadway show was not that big a deal. We took it for granted. But for people from anywhere else in the world, seeing a Broadway show means planning a special vacation, not merely hanging out at Half Price Tickets to see what's available. For performers, too, getting a gig on Broadway is obviously a big deal.
MSG is kind of the same, and Daron doesn't really think about it. But the people around him do. Antonio brings it up in the limo on the way to the Palladium. When you're the act playing the Garden, everyone in New York treats you like a king.
It was kind of cool to find this sentiment echoed in Taylor's book. "So what is it about Madison Square Garden, the apex of fame, the place I had fantasized about in the suburbs of Birmingham, really like? MSG has the biggest ego of any venue in the world. From the moment we arrived in New York, every driver, every concierge, every shop assistant was referring to it: 'You guys are at the Garden, right?' It was Garden this, Garden that. We had to really try to keep our feet on the ground in the run-up to the performance there."
Daron is pretty good at ignoring hype. Ziggy isn't. Something to keep in mind about how this week in New York has been affecting them.
GUITARS AND NEW JERSEY
Backtracking a little in the story, to the topic of New Jersey, Daron posted recently on his Facebook page: "It's like once you're looking for stuff about guitars and new jersey you find them together everywhere. Huh."
What prompted that was stumbling upon this. And I quote from the Mahwah Museum website: "Les Paul — the genius who invented the solid body guitar and the multi-track recording system — lived in Mahwah for more than half his life." Mahwah is a town in northern New Jersey that was always having flooding when I was a kid. The Mahwah Museum is having a special exhibit dedicated to Les Paul that will run through June 2013, including a Les Paul 98th burthday party and special slots where one can sign up to actually play one of the guitars Les owned. Huh.
http://www.mahwahmuseum.org/program.cfm?page=203
BONUS BONUS
Many of you made donations in the last few weeks in order to get the "adults only bonus chapter" of Daron and Jonathan. Since I send the bonuses as PDFs, of course, they don't have the layout or features of a blog post. Since the bonus was entitled "What Do I Get" here's the video that goes with it. The Buzzcocks "What do I Get."
By the way, the offer still stands, anyone who wants this bonus chapter or any of the three previous, make a donation of any amount and put in the paypal "notes" that you are over 18 and which bonus you want (#1 is Daron & Ziggy's first time, #2 is them shortly after that, #3 is Daron & Jonathan in Boston, and #4 is Daron and Jonathan in New York.) And if you are broke but really need those bonuses, you can get one as a thank you each time you do one of the following: write a review of one of the DGC ebooks on Amazon.com or Goodreads, or recommend DGC to your friends (& link to the site) on Facebook, Twitter, Tumblr, Livejournal/Dreamwidth, or other social media. Or offer the site something else in trade that would be awesome! Art? Crafts? Songs? Cookies? Be creative!
OMG WHAT
Worst Album Covers of All Time.
(No comment, the images speak for themselves?)
DGC NEWS
Have you noticed that the DGC volume 1 ebook is now #33 on the Coming of Age bestseller list on the Kindle store?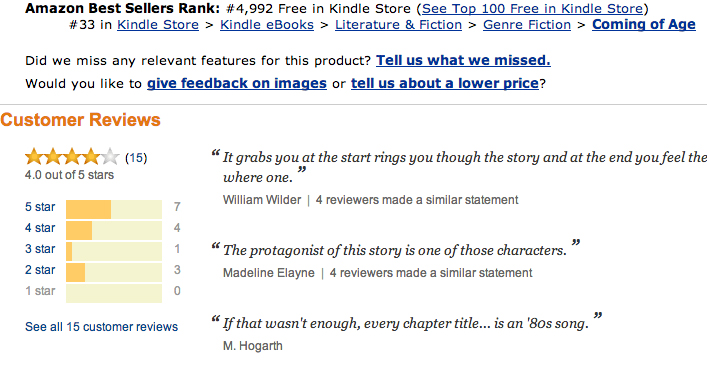 I only just noticed it when I uploaded a new version of the ebook (better formatted now, and with a "sample book 2" section in the back, thanks to LenaLena for the suggestion!). I wouldn't have even guessed that Amazon had a "coming of age" bestseller list, but I guess if enough books are tagged with something, it can happen! Previously vol 1 got all the way up to #2 in the Gay & Lesbian books bestseller list, and volume 2 got up to #5 on the "Coming Out" bestseller list. Hm, by the time I took this screenshot below, it had dropped from #33 to #34!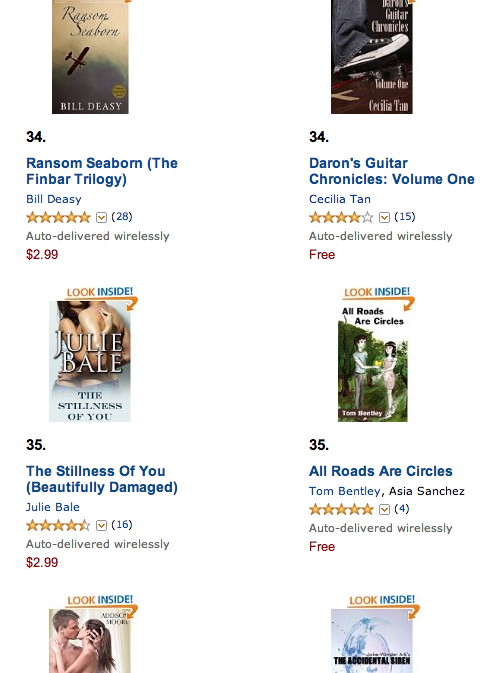 Speaking of LenalLena, OMG this is a fantastic review of DGC she wrote for the M/M romance reviews blog, Reviews by Jessewave. Link: http://www.reviewsbyjessewave.com/2013/03/22/darons-guitar-chronicles/ In it she says: "A wonderful, layered story with excellent writing."
I'm so so so grateful she thinks so and felt the need to share that opinion with the world. DGC is by far the most fun I've ever had writing fiction, and it's been the most gratifying because of the involvement of readers. Writing is normally a very solitary pursuit. Writing and self-publishing a serial like this, though, is completely different. You all are what make it so fun and gratifying.
SLASH GOGGLES
For those who don't know the term "slash goggles," it refers to the penchant of certain folks (like me) to see gay relationships in tv/movie characters and celebrities where in reality no homosexuality might exist. "Slash" is a kind of fanfiction that often pairs character together who aren't paired in the canon of a tv show, movie, or book.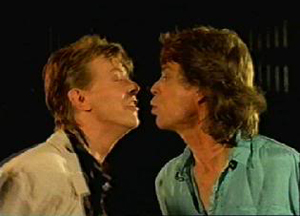 One of the inspirations for DGC, of course, was the fact that music videos of the 1980s were packed with images that could be interpreted as homoerotic. (Google "gayest videos of the eighties" and you will come up with multiple blog posts and lists!) Some of them were intentional (see: Wham, Culture Club, Queen, and perhaps the above shot of David Bowie and Mick Jagger, who were repeatedly described by Angie Bowie on talk shows as having spent the night together) while others were probably not intentional. (In hair metal alone see: Poison, Ratt, Motley Crue…)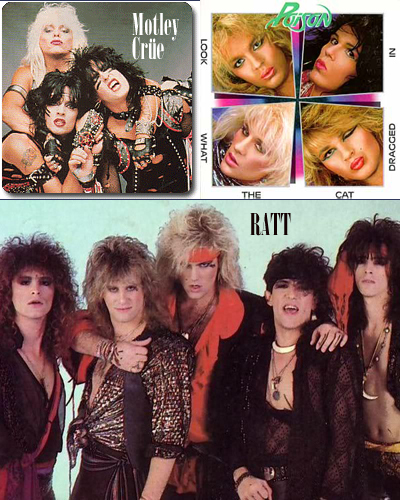 But anyway, have you seen this picture of Joe Perry and Steven Tyler?
Link: http://twitpic.com/91ba0i

Something about that photo got my slash goggles steamed up.
When Tyler was a judge on American Idol, apparently Joe Perry showed up on his birthday to surprise him, hence the photo. Everything I've read or seen in documentaries about the relationship between Tyler and Perry makes me think it's a fascinating one. Even if there's zero sexual component to it, it still sounds fascinating. I should probably look into them more.
Here's video from ABC's Good Morning America on how Tyler taking the Idol gig caused a rift between him and Tyler, but they made up after Tyler left the show.
http://abcnews.go.com/Entertainment/aerosmiths-steven-tyler-joe-perry-talk-tension-american/story?id=17307645#.UU40MY7k9Zc
Can anyone recommend a good book on Aerosmith?
SOUND-ALIKES
And lastly, I picked a few more sound-alikes for you.
First up, the Black Keys, "Lonely Boy":

Now take a listen to the Screaming Blue Messiahs, "I Wanna Be A Flintstone."

Or how about Imagine Dragons, "It's Time"?

Compare to The Cure, "Fascination Street," especially if you start the video from 0:39…

OK. Time for me to run. Story continues Tuesday as usual!